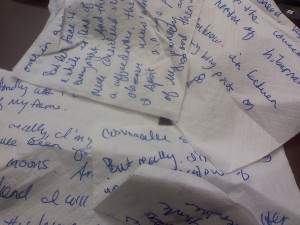 When I see a particular client it doesn't take me long to find her file in my file cabinet. It's the one with the colour-coded tabs sticking out. These tabs form part of the many background documents she wrote for me to assist in the treatment process. Meanwhile, I have another client who has yet to complete a simple questionnaire given to him several sessions ago. I've given up asking him for it. I'd like to thank both of them for inspiring today's column.
Pie charts and scribbled napkins (Voir plus bas pour la version Française)
(Source: Camemberts et gribouillages. Journal Métro, May...