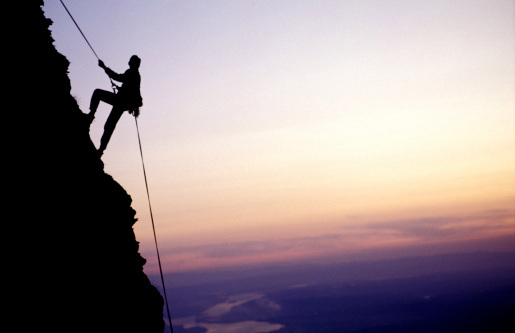 CAN I DO MORE?
(SVP, Voir plus bas pour la version Française)
Can I do more? This question is a trap if I ever heard one.
Can I do more to help my parents? Can I do a better job on this assignment? Can I eat better? These types of questions are endless and the only answer to them is yes. The simple fact is we can always do more. And if we're not able to accept, or "be OK," with this reality, we're going to be in trouble. The question of 'Can I do more?' will leave us with only two options. The first is to be disappointed with not doing our best and the second is to try harder and keep going. But if we try harder we are still left with the question of 'Can I do more?' and we're right back to the two options of trying harder or being disappointed. There is no alternative. All roads lead to disappointment.
Of course this isn't a big issue with most of us. The majority of individuals can acknowledge that they can do better – nobody's perfect – but can nevertheless be satisfied with what they've done. No disappointment for these people. But there are others who have a much harder time letting go and for them the question of 'Can I do more?' will cause significant problems. There are two groups of people who have a particularly hard time letting things stand.
The perfectionists
Some people just can't seem to be happy until things are just right. A job that seems well done still needs refining, a good meal still needs a little something, nothing feels quite good enough. These people can sometimes be seen as perfectionists, or as picky. There is no denying the fact that their work is generally of a very high quality. The only problem is that they are rarely satisfied with it even if everyone else around them is.
The guilt-ridden
There is another group of individuals who are governed by excessive guilt. They are generally seen as people pleasers and are constantly doing for others. This can include trying to please bosses, coworkers, friends, or members of the family. Many of them may have grown up in a home with a parent that was either difficult to please or was needy and dependent, one requiring lots of attention and help.
For perfectionistic or excessively guilty people the question of 'Can I do more?' is a trap. The answer will always be yes and they will always want to push more. They will always overdo things. This tends to lead to burnout or to complete avoidance of people or responsibilities. It's just too much work so they often run away.
For those who aren't very good at letting go, the only way around this bottomless pit of disappointment is to be aware of the trap that comes with the question 'Can I do more?' A far more functional question is 'Did I do a lot?' The answer to this one is usually also yes. But at least a yes answer to this question does not require you to do more.
_________________________________________________________________
Voici la version Française publié en ligne dans le Journal Métro le 7 juillet, 2015: La Vie en Tranches.
Puis-je en faire plus? Cette question est tout un piège.

Puis-je en faire plus pour aider mes parents? Puis-je travailler davantage pour réaliser mes devoirs? Puis-je manger mieux? Ce genre de questions est sans fin, et la seule réponse possible est : « Oui. » Nous pouvons toujours en faire plus. Et si nous ne sommes pas capables d'accepter ce fait, nous allons éprouver des problèmes. La question « Puis-je en faire plus? » ne nous laisse que deux options. La première est d'être déçus de ne pas avoir fait de notre mieux, et la deuxième, est de déployer plus d'efforts pour y arriver. Mais, si nous déployons plus d'efforts, la question « Puis-je en faire plus? » demeure, et nous revenons à nos deux options. Il n'y a pas de solution de rechange. Toutes les routes mènent à la déception.

Bien sûr, cela ne constitue pas un gros problème pour la plupart d'entre nous. La majorité des gens peuvent reconnaître qu'ils peuvent faire mieux (personne n'est parfait), mais peuvent tout de même être satisfaits de ce qu'ils ont fait. Ces gens ne sont pas déçus. Mais, il y en a d'autres qui ont beaucoup plus de difficulté à lâcher prise, et la question « Puis-je en faire plus? » leur cause de graves problèmes. Deux groupes de personnes ont particulièrement de la difficulté à lâcher prise.

Les perfectionnistes
Certaines personnes ne semblent pas pouvoir être satisfaites avant que les choses ne soient parfaites. Un travail qui semble bien fait a encore besoin d'être peaufiné, un bon repas a besoin d'une petite touche supplémentaire, rien ne semble jamais assez bien. On peut parfois considérer ces gens comme perfectionnistes, ou difficiles à satisfaire. Il n'y a aucun doute que leur travail est généralement de très haute qualité. Le seul problème est qu'ils sont rarement satisfaits de leur travail, même si tout le monde l'est.

Ceux qui se sentent coupables
Il existe un autre groupe de personnes qui sont rongées par un sentiment de culpabilité. Ces personnes essaient toujours de faire plaisir aux autres, qu'il s'agisse des patrons, des collègues, des amis ou des membres de leur famille. Plusieurs d'entre elles ont grandi auprès d'un parent à qui il était difficile de plaire. Dans d'autres cas, un parent pouvait être très dépendant requérant beaucoup d'attention et d'aide.

Pour les personnes perfectionnistes ou qui se sentent coupables, la question « Puis-je en faire plus? » constitue un piège. La réponse sera toujours « oui. » Elles voudront toujours en faire plus. Elles en feront toujours trop, ce qui a tendance à les mener vers le burnout ou à l'évitement des gens ou des responsabilités. C'est tout simplement trop de travail, alors souvent elles fuient.

Pour les personnes qui ont de la difficulté à lâcher prise, la seule façon de se sortir de cette mer de déception est d'avoir conscience du piège qui accompagne la question « Puis-je en faire plus? ». Il serait beaucoup plus fonctionnel de se poser la question : « En ai-je fait beaucoup? » La réponse à cette question est habituellement aussi : « Oui. » Mais au moins, répondre « oui » à cette question n'exige pas que nous en fassions davantage.
Tagged as guilt, perfectionism, workaholics.
Posted in Happiness, Human nature, Stress.
Posted on
07 Jul 2015