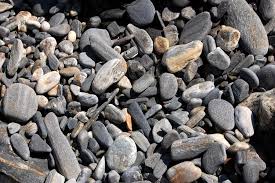 SMOOTH ROCKS AND PLASTIC RINGS
(SVP, voir plus bas pour la version Française)
Why do we always seem to come home from vacation with a pocketful of smooth rocks or seashells we picked up at the beach or cheap plastic rings we bought at an amusement park? I don't know about you but I have a stack of them.
I was seven years old the first time I went to Italy to visit my grandparents' farm. It was quite an experience. No running water, no electricity… and no toilet. Yikes! I was invited to use the great outdoors for all my toileting needs. Are you kidding me? There are bugs out there! I decided I would just "hold it in," until we went home…one month later. Needless to say, after a couple of days I was doubled over in pain. I was forced to decide between doing what the bears do or using my baby cousin's potty. I opted for the former.
In any case, things were quite boring after a while. The adults tended to the chickens and pigs, milked the cows, and harvested wheat while my two male cousins and I hung around the farm. We'd spend days catching flies, looking for soft moss to sleep on, and climbing trees. One cool thing we did was wrap string around rocks. We'd hold one end of the string and sling the rocks at a variety of targets. These spinning missiles took out fruit and other targets carefully balanced on fences and boulders.
The rocks had to be just the right size and shape. Too big and they wouldn't spin properly. Too small and they wouldn't penetrate the wind. When I finally found a perfect one, it went into my pocket as a keeper. The rocks were soon joined by a bunch of string. You just can't find this kind of string back home, you know.
My uncle was taking medicine for kidney disease at the time. At that age, I wasn't too aware of the implications of an illness that would soon require dialysis. But what I did appreciate was that the medicine came in these cool little brown bottles that they were just throwing away. Imagine! I discreetly snuck a few bottles out of the garbage and added them to my stash.
When we got home I didn't get the chance to empty my pockets before my mother picked up my pants to wash. She emptied a pile of string, rocks and medicine bottles from both pockets, laughed, and threw them out muttering something like, "What, Canada has no rocks?" I was devastated.
So what do I have left from that vacation? Memories. Memories don't absolutely need to be tied to objects but it helps. I'm sure that if I kept those rocks and stumbled upon them today I would temporarily step into a time machine, go back 50 years, and be flooded with vivid memories. The smile on my face would take a long time to fade.
We bring home trinkets and rocks from our vacation destinations because they serve as reminders of where we were and what we did. They also remind us of the people we did them with. I can think of no better reason to come back with a pocketful of junk.
With that in mind, enjoy the rest of the summer. And when you find a moment of mental peace and happiness, be sure to pick up a small rock from wherever you are. Down the road it will act as your own time machine.
…and don't let your mom wash your pants!
________________________________________________________________
Voici la version Française publié en ligne dans le Journal Métro le 21 juillet, 2015: La Vie en Tranches.
Pourquoi rapportons-nous de nos vacances des poignées de galets ou de coquillages ramassés sur la plage, ou une bague de plastique achetée au parc d'attraction? Je ne sais pas si vous êtes comme moi, mais j'en ai des tas…

J'avais sept ans, la première fois que je suis allé en Italie à la ferme de mes grands-parents. Ce fut toute une expérience. Pas d'eau courante, pas d'électricité… et pas de toilettes. Beurk! On m'a invité à aller au grand air pour tous mes besoins intimes. C'est une blague? C'est plein de bestioles dehors! J'ai alors décidé de « me retenir » jusqu'à notre retour, un mois plus tard. Pas besoin de vous dire que quelques jours plus tard, la douleur m'a fait prendre une décision entre faire ce que font les ours et utiliser le petit pot de mon cousin. J'ai opté pour l'extérieur.

De toute façon, c'est devenu ennuyeux, après un certain temps. Les adultes s'occupaient des poulets et des porcs, trayaient les vaches et récoltaient le blé, tandis que mes deux cousins et moi traînions dans la ferme. Nous passions nos journées à attraper des mouches, à chercher un lit de mousse où faire une sieste, et à grimper aux arbres. L'une des choses amusantes que nous faisions était d'enrouler des cordes autour de pierres. Nous tenions l'extrémité de la corde et visions un tas de cibles avec les pierres. Ces missiles réussissaient à déloger des fruits posés en équilibre sur les clôtures et les rochers.

La pierre devait être de la bonne taille et de la bonne forme. Trop grosse, elle ne tournoyait pas comme il faut. Trop petite, elle n'arrivait pas à lutter contre le vent. Quand j'ai fini par trouver la pierre parfaite, je l'ai mise dans ma poche pour la conserver. Puis, les pierres ont été rejointes par un bout de ficelle. On ne trouve pas ce genre de ficelle à la maison, vous savez.

À l'époque, mon oncle prenait un médicament pour les reins. À l'âge que j'avais, j'ignorais les implications d'une maladie qui allait bientôt nécessiter une dialyse. Mais, ce que j'appréciais, c'est que ces médicaments se vendaient en jolies petites bouteilles brunes qu'ils jetaient! Imaginez! J'ai discrètement retiré quelques bouteilles des poubelles et les ai ajoutées à ma collection.

Une fois de retour à la maison, je n'ai pas eu le temps de vider mes poches avant que ma mère ne prenne mon pantalon pour le laver. Elle y a trouvé un amas de pierres, de cordes et de bouteilles de médicaments. Elle a ri et les a jetés en murmurant quelque chose comme : « Quoi, le Canada n'a pas de pierres? » J'étais dévasté.

Alors, qu'est-ce qui m'est resté de ces vacances? Des souvenirs. Les souvenirs n'ont pas absolument besoin d'être rattachés à des objets, mais cela aide. Je suis certain que si j'avais gardé ces pierres et que je les retrouvais aujourd'hui, la machine à remonter dans le temps me ramènerait 50 ans en arrière. Je serais submergé de souvenirs bien vivants. Le sourire sur mon visage mettrait du temps à s'effacer.

Nous rapportons de nos vacances des babioles et des pierres parce qu'elles nous rappellent où nous sommes allés et ce que nous y avons fait. Elles nous rappellent aussi les gens avec qui nous étions. Je ne vois aucune meilleure raison de revenir de vacances les poches pleines de camelote.

Cela dit, profitez bien du reste de l'été. Et lorsque vous goûterez un moment de paix et de bonheur, assurez-vous de recueillir une petite pierre, où que vous soyez. Un jour, elle vous servira de machine à remonter dans le temps.

… et ne laissez pas votre mère laver votre pantalon!
Tagged as Vacation, vacation memories.
Posted in Happiness, Humour, Life, Random thoughts.
Posted on
22 Jul 2015