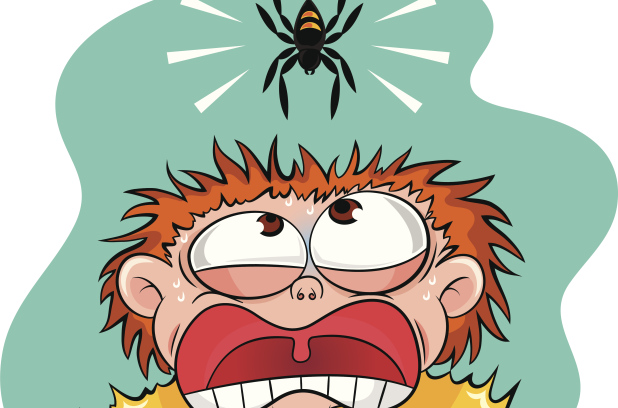 Have you ever noticed how common certain fears are while others are surprisingly rare? People can develop fears of just about anything but for the most part this doesn't happen very often. Common fears seem to cluster around a few scary things and can include snakes, spiders, heights, and enclosed spaces. The interesting thing is that very few of us have had any bad experiences with them.
What role does experience play? Many people fear bees even if they've never been stung. But we've all been cut with kitchen knives, burnt on stoves, shocked by an electric socket (well, us do-it-yourselfers have anyway!), and suffered countless paper cuts. Yet I have never met anyone with a paper cut phobia.
The reason is simple. Humans evolved in an environment where stinging insects, meat-eating or venomous predators, and heights are all highly dangerous. Those who developed instinctive fears of these threats were more likely to survive. We now live in a completely different world. Enclosed spaces are no longer places where a tiger can trap us. Instead, they are metro tunnels and elevators. Unfortunately, we still carry the instinctive fears when we first enter these spaces.
Experience does play an important role. The more we avoid something, the stronger the fear of that thing becomes. Fears can gradually increase or decrease depending on our experiences with them. But people tend to forget that phobias usually start with an uncomfortable feeling – a remnant of our instincts – and then develop from there.
Here is today's Metro Column:
Spiders, snakes and cakes
(Source: Araignées, serpents et gâteaux. Journal Métro, June 30, 2014)

Would you feel comfortable having a large Tarantula sitting on your shoulder? How about having a snake slithering between your legs? No? Well that's not very surprising. Now what if I asked you to put on some oven mitts and pull a cake out of your oven? I doubt if this would make many of you uncomfortable.

Now let me ask a couple of follow-up questions. Have you ever been bitten by a poisonous snake or spider? What about stoves or ovens? Have you ever been burnt?

If you are like most people, you probably have never actually been hurt badly by venomous creatures, but you are very scared of them. On the other hand I'm sure you've burnt yourself taking something out of the oven. Yet I doubt if many of you have phobias of them. Why is it like this if fears are supposed to come from bad experiences?

Instinctive fears
If we think about instinct it becomes easier to understand why we are more afraid of some things than others. Survival instincts in human beings – like all animals – evolved in a natural environment. Fear of heights, enclosed spaces, new environments, crowds, venomous animals, etc., are easy to understand. There are no safe heights in nature. Enclosed spaces, such as caves, are places where we could be trapped by a predator. We don't know what dangers lurk in a new environment. We could be trampled in a stampede. Many snakes are poisonous. These fears evolved because they increased the chance of survival.

Let's zoom ahead to 2014 and life in a modern city. There aren't many hooded cobras or black widow spiders in Montreal but there are tunnels, metros, and elevators. Most people with phobias tend to be afraid of the same things. They will talk about their discomfort in elevators, or on airplanes, or of being stuck in traffic on a bridge, or even the hairdresser's chair; anywhere where they can't get away if they need to. This is a remnant of instinctive fears that have evolved in all animals. Don't bother blaming your mother for your fears or wondering about some suppressed trauma. Experience can lessen or increase fears but for the most part they are wired in all of us.

This is why many people are afraid of snakes and spiders even if they have had no bad experiences with them, and why fewer of us are afraid of things such as ovens and electric sockets despite plenty of bad experiences. Ovens simply haven't been around long enough for an instinctive fear to develop. Being burnt will teach us some anxiety and this will make us more careful but we are unlikely to have a strong phobia of one. The only way for that to happen is to put a Tarantula on one of the dials.

_______________________________________________________________
Voici la version Française:
Araignées, serpents et gâteaux

Seriez-vous à l'aise si une grosse tarentule se déplaçait sur votre épaule? Ou si un serpent se faufilait entre vos jambes? Non? Eh bien, ce n'est pas étonnant. Et si je vous demandais d'enfiler des gants de cuisine pour sortir un gâteau du four? Je ne pense pas que cela fasse reculer qui que ce soit.

Permettez-moi de vous poser encore quelques questions : vous êtes-vous déjà fait mordre par un serpent venimeux ou une araignée? Ou vous êtes-vous déjà brûlé(e) sur une cuisinière?

Si vous êtes comme la plupart des gens, vous ne vous êtes probablement jamais fait blesser par des animaux venimeux, mais ils vous font très peur. Par ailleurs, je suis certain que vous vous êtes déjà brûlé(e) en sortant un plat du four. Et pourtant, très peu de gens ont la phobie des cuisinières. Pourquoi en est-ce ainsi, si les peurs sont censées faire suite à des expériences négatives?

Les peurs instinctives
Quand on songe à l'instinct, il devient plus facile de comprendre pourquoi nous craignons davantage certaines choses que d'autres. L'instinct de survie, chez l'être humain comme chez l'animal, a évolué dans un environnement naturel. La peur des hauteurs, des espaces clos, des nouveaux environnements, des foules, des animaux venimeux, etc., est facile à comprendre. Il n'existe pas de hauteurs sécuritaires dans la nature. Les espaces clos, comme les cavernes, sont des lieux où l'on peut se faire piéger par un prédateur. Nous ne connaissons pas les dangers qui peuvent nous menacer dans un nouvel environnement. Nous risquons de nous faire piétiner dans une émeute. Plusieurs serpents sont venimeux. Ces peurs ont vu le jour parce qu'elles augmentaient les possibilités de survie.

Revenons en 2014 et à la vie dans une ville moderne. Il n'y a pas beaucoup de cobras ou de veuves noires à Montréal, mais on y trouve des tunnels, un métro et des ascenseurs. La plupart des gens phobiques ont peur des mêmes choses. Ils parleront du malaise qu'ils éprouvent dans un ascenseur ou dans un avion, ou encore lorsqu'ils sont coincés dans la circulation sur un pont, voire même dans le fauteuil du coiffeur. Autrement dit, tous les endroits qu'ils ne peuvent fuir en cas d'urgence. C'est là un reste des craintes instinctives propres à tous les animaux. Ne blâmez pas votre mère pour vous avoir transmis ces craintes ni un traumatisme oublié. L'expérience peut amplifier ou diminuer les peurs. Mais en majeure partie, ces peurs sont enracinées chez nous tous.

C'est pourquoi bien des gens craignent les serpents et les araignées, même s'ils n'ont jamais vécu d'expérience négative avec ces bêtes et que peu d'entre nous ont peur des fours ou des prises électriques, malgré toutes les mauvaises expériences qui s'y rattachent. Cela s'explique tout simplement du fait que les fours n'existent pas depuis assez longtemps pour que nous ayons eu le temps d'en développer une peur instinctive. Le fait de nous brûler suscitera une certaine anxiété et nous rendra plus prudents. Mais il est peu probable que cela entraîne une phobie. Pour cela, il faudrait qu'une tarentule se trouve sur l'un des boutons de la cuisinière…
Tagged as arachnophobia, Instinctive fears, phobias, preparedness.
Posted in Anxiety.
Posted on
15 Jul 2014