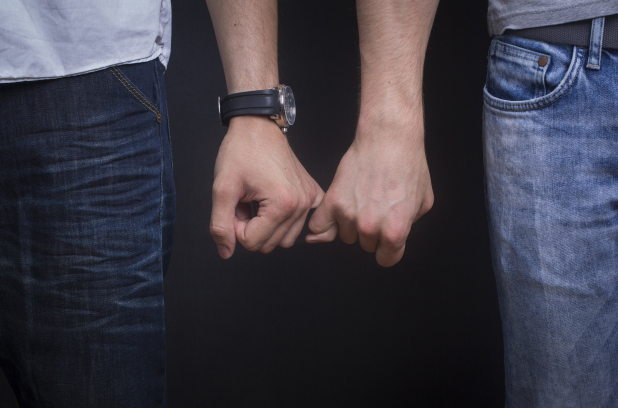 (SVP, voir plus bas pour la version Française)
An abridged version of the following appears in this morning's Journal Métro
I recently met with a woman seeking advice on something very upsetting to her. She started by proudly telling me about her three children. She raised them as a single mother with no financial or physical assistance from their father. As an immigrant, her opportunities were limited. She actually held two full-time jobs, coming home for a quick supper after a full day's work before going off to a full evening shift in another company. This insane schedule was her sacrifice for putting her children through college.
The results are impressive. One daughter is a surgeon, one son is a top engineer and the last son recently won one of only two spaces for international students in a top medical school. Impressive to say the least.
Then she got to the point of her visit. She told me her son in medical school had just admitted he was gay and that he was living with a man. The woman was beside herself. She questioned what she had done wrong. Had her son been abused in the past? Was the alcoholic biological father somehow to blame? Was there something we could do to address the 'problem'?
As a psychologist I work with many gay colleagues and clients. Somehow they look, walk, and talk just like any other human being. I remember a colleague who once came out as gay. She later thanked me for not judging her. That's when I said, "Well, no one every taught me to be attracted to women. It just happened. I assume the same is true for you."
Homosexuality can certainly seem odd to people who are not exposed to it but it is a simple question of habit. When I was a kid, all bus drivers were men. The first time I saw a woman bus driver it certainly looked weird but so what. It was perfectly natural and now that we are exposed to female bus drivers everywhere we no longer think twice about it. The same can be said for homosexuality. Seeing two men kissing certainly seems 'wrong' the first time we see it because it doesn't fit what we normally expect. But this is only because we never saw this behavior before. The more we are more exposed it, the less out of place it will be.
I know that in different cultures homosexuality isn't seen the same way as in Canada, and I can empathize with this woman who grew up in a different world. Nevertheless, sexual attraction is simply not something we can change in people. We are conceived with no sexual separation as embryos. Genders gradually differentiate as a result of hormonal influences early on in the development of the fetus. In all probability the process is not going to be as complete in everyone.
I don't know about you but I had very little say in my own biological development when I was in my mother's womb. Learning and culture does play a role in sexual identity but it is mostly in how gay people see themselves and in how they are seen by others. For the most part, we are who we are and most of us choose the sexual partner that feels most natural. No therapy can change that and none is needed. Love is love. It's as simple as that.
So here is what I told this woman, "Go home, call your son, and tell him that you love him. Then go back to being a proud mother."
_________________________________________________________________________
Voici la version Française
Dernièrement, une femme est venue me consulter pour quelque chose qui la troublait beaucoup. Elle a commencé par me parler avec fierté de ses trois enfants, qu'elle a élevés seule, sans l'aide matérielle ou financière de leur père. En tant qu'immigrante, les possibilités qui s'offraient à elle étaient limitées. Elle occupait deux emplois à temps plein. Elle rentrait chez elle pour manger en vitesse après sa journée de travail, avant d'aller faire son quart de soir dans une autre entreprise. C'était le sacrifice qu'elle était prête à faire pour pouvoir inscrire ses enfants à l'université.

Les résultats sont impressionnants. Sa fille est chirurgienne, l'un de ses fils est un ingénieur de haut calibre, et son fils cadet a récemment obtenu l'une des deux seules places réservées aux étudiants étrangers dans une école de médecine des plus réputées.

Puis, elle en est venue au but de sa visite : son fils qui étudie en médecine vient de lui confier qu'il est gay et qu'il vit avec un homme. Elle était dans tous ses états. Qu'avait-elle fait de mal? Son fils avait-il été victime d'abus? Fallait-il blâmer l'alcoolisme du père biologique? Y avait-il quelque chose à faire pour régler le « problème »?

En tant que psychologue, je travaille avec de nombreux collègues et clients gays. Ils paraissent, marchent et parlent comme tout autre être humain. Je me rappelle une collègue qui m'a annoncé un jour son homosexualité. Elle m'a remercié de ne pas l'avoir jugée. Je lui ai répondu : « Eh bien, personne ne m'a enseigné à être attiré par les femmes. Cela s'est fait tout seul. J'imagine que c'est la même chose pour toi. »

Je sais que dans d'autres cultures, l'homosexualité n'est pas considérée de la même façon qu'au Canada, et je peux me mettre à la place de cette femme qui a grandi dans un monde différent. Mais, l'attrait sexuel n'est pas quelque chose qu'on peut changer. Chez les embryons, il n'y a pas de différenciation sexuelle. Le sexe apparaît graduellement, sous l'influence hormonale, dans le développement du fœtus. Selon toutes les probabilités, ce processus ne se termine pas de la même façon chez tous.

Je ne sais pas pour vous, mais en ce qui me concerne, je n'ai pas eu mon mot à dire dans mon développement biologique lorsque ma mère me portait. L'apprentissage et la culture ont un rôle à jouer dans l'identité sexuelle, mais il s'agit surtout de la façon dont les gays se voient et de la façon dont les autres les voient. Nous sommes qui nous sommes, et la plupart d'entre nous choisissent un partenaire sexuel selon ce qui leur semble le plus naturel. Aucune thérapie ne peut changer cela, et aucune n'est de toute manière nécessaire. L'amour est l'amour. Ce n'est pas plus compliqué que cela.

Alors, voici ce que j'ai dit à cette femme : « Rentrez chez vous, téléphonez à votre fils, et dites-lui que vous l'aimez. Puis, continuez d'être fière de lui. »
Tagged as .
Posted in Human nature, Life.
Posted on
14 Jan 2014