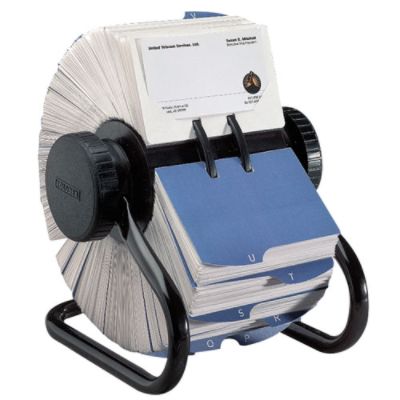 Chances are pretty good that if you are under thirty you've never even heard of a Rolodex. Of course if you're over fifty…there is probably one on your desk. (SVP, voir plus bas pour la version Française)
I think of Rolodexes and manual typewriters whenever I think of how much my world has changed since I was a kid. More importantly I think about them whenever we see people who are highly resistant to change.
The stress of new challenges
The reason change is scary is because of our basic stress response. This mechanism is designed to protect us from harm. By feeling stressed or anxious, we become more aware of potential threats and can prepare for them. This is why we feel stressed when facing novel situations. Since we don't know what the future holds, our bodies go on high alert in preparation for whatever may come.
Familiar circumstances are less likely to make us anxious since we know what the challenges are. Let's take a natural environment where our stress response evolved. If I have ventured into a nearby forest many times looking for food, and know there are bears living there, I can prepare by bringing a rifle in case I run into one. If I know there is no water on my journey I can prepare by bringing my own supply. But with change come unknown challenges. If I don't know what's out there, what am I supposed to bring?
Not so new after all
But should we be really that scared of change? Is it really that unknown? More often than not we can look to the past. There are probably a number of challenges we faced that stressed us but that we eventually mastered. If we ask ourselves if the new challenge is any more complicated than past ones, we will usually conclude that they are not. In other words, it isn't so new. The details may be different but the complexity isn't. If we had the capacity or the tools to adapt to past changes, why wouldn't we have them now?
Change is not a lot of fun compared to the comfort of the status quo. It is also true that sometimes change is done for change's sake. But more often than not change, like the move away from Rolodexes to electronic databases, does make things more efficient.
The best way to adapt to future changes is to look back to how easily we adapted to past ones. If we focus on the details we will see only the differences and this impression of novelty will stress us. If we focus instead on our intelligence and our past capacity to deal with similar challenges, then things won't look so novel after all.
With that in mind, I think it's time I took my own advice and finally packed away my old Rolodex.
…maybe!
___________________________________________________________________
Voici la version Française:
Mon Rolodex me manque
(Journal Métro, 1 dec, 2014)

Si vous avez moins de 30 ans, il est fort probable que vous n'ayez jamais entendu parler du Rolodex. Mais si vous avez dépassé la cinquantaine, ce classeur rotatif trône probablement sur votre bureau.

Le Rolodex et les machines à écrire manuelles me viennent à l'esprit quand je pense à tous les changements que le monde a subis, depuis mon enfance. Et surtout, j'y songe quand je vois des gens réfractaires au changement.

Le stress des nouveaux défis
Le changement nous effraie en raison de notre réaction fondamentale au stress. Ce mécanisme est conçu pour nous protéger. Lorsque nous ressentons du stress ou de l'anxiété, nous sommes plus conscients des éventuelles menaces et nous pouvons nous y préparer. C'est pourquoi nous nous sentons stressés face à de nouvelles situations. Comme nous ignorons de quoi l'avenir sera fait, notre organisme se met en alerte pour nous préparer à tout ce qui peut survenir.

Il est moins probable que les situations familières nous rendent anxieux, car nous connaissons alors les défis à relever. Prenons un environnement naturel dans le cadre duquel notre réaction au stress a évolué. Si je me suis aventuré plusieurs fois dans la forêt avoisinante en quête de nourriture et que je sais que des ours y vivent, je peux me préparer en emportant un fusil. Si je sais qu'il n'y aura pas d'eau sur ma route, je peux apporter mes provisions d'eau. Mais, le changement apporte des défis inconnus. Si je ne sais pas ce que je trouverai, que puis-je emporter pour me préparer?

Ce n'est pas si nouveau, après tout
Devrions-nous être si effrayés par le changement? Souvent, nous pouvons tirer des leçons du passé. Nous avons probablement fait face à un certain nombre de défis qui nous ont stressés, mais que nous avons relevés. Lorsque nous nous demandons si les nouveaux défis sont plus complexes que ceux du passé, nous concluons habituellement que ce n'est pas le cas. Autrement dit, ce n'est pas si nouveau. Les détails sont peut-être différents, mais la complexité ne l'est pas. Si nous avons eu la capacité ou les outils nécessaires pour nous adapter aux changements dans le passé, pourquoi ne les aurions-nous pas maintenant?

Le changement n'est pas très amusant, par rapport au confort du statu quo. Il est également vrai que des changements sont parfois apportés rien que pour le plaisir de changer. Mais, le plus souvent, le changement, comme le fait de passer du Rolodex à la base de données électronique, apporte de l'efficacité.

La meilleure façon de s'adapter aux changements futurs est de songer à la facilité avec laquelle nous nous sommes adaptés aux changements passés. Si nous nous concentrons sur les détails, nous ne verrons que les différences, et cette impression de nouveauté nous stressera. Mais si nous nous concentrons plutôt sur notre intelligence et sur notre capacité passée à relever des défis semblables, les choses ne nous sembleront plus aussi nouvelles.

Cela dit, je crois qu'il est temps que je suive mes propres conseils et que je finisse par me défaire de mon vieux Rolodex…

…peut-être!
Tagged as Anxiety, change management, Stress.
Posted in Stress.
Posted on
03 Dec 2014