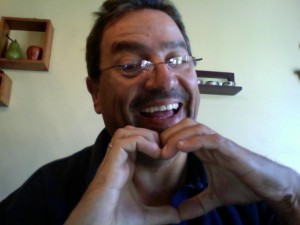 We almost all have a list of ideal qualities sought in a mate. Some make lists out of fun but others take them quite seriously. Lists tend to lean heavily, albeit not exclusively, on physical traits. But you may notice that while physical traits lead us to form connections with others, it is the psychological ones that keep us together. And psychological traits take time to unearth. This pretty well implies there is little point in trying to decide who or what you will like ahead of time. It may be best to forget your list, or at least to have a pretty broad one, and just get to know people first.
Here is tomorrow's Metro column:
Love lists (voir plus bas pour la version Française)

Here's a typical personal ad: Single man seeking a partner to share the love of music, long walks in the park, travel, and reading by the fireplace. I know these people must exist but the truth is probably closer to: I watch TV from the moment I get home until I fall asleep on the sofa…excluding the time I spend with my beer while flipping burgers on the BBQ. As for reading, does the occasional sports magazine count?

If you had to design your perfect partner, what qualities would be on your list? It would probably include physical attributes such as height, eye and hair colour, and build type, as well as a number of psychological attributes such as honesty, sense of humour, intelligence and trustworthiness.

But here is the interesting thing. When most of us fall in love, our partners don't look anything like our lists. Somehow tall, dark and handsome gives way to short, balding and round-bellied with a nose that deviates to the left by 15 degrees. When we compare the qualities of the people we love to the qualities we idealized, we realize we fell in love with an entirely different list. And yet it still feels just as good.

This proves how difficult it is to define love, or even to define our own tastes. Human nature and human interactions are too complex to define with words. Feelings are not found in the same part of the brain as language but words are all we can put down on paper.

She loves me, she loves me not
Love often includes a strong physical attraction and grows as we discover the many character traits that are revealed over time. This feeling transcends any list. The same applies when we no longer feel love. When the other person asks why, we struggle to explain. We sometimes mention a few habits that irritate us but they will always be disputed because they seem so trivial. It turns out to be just as hard to explain why we don't love someone, as it is to explain why we do.

There doesn't seem to be much point in figuring out what kind of person you want to meet and trying to find the perfect match. Regular friendships don't develop that way. They simply emerge as a result of social contacts.

The same goes for love. You're probably better off forgetting your list. Just get to know a number of people and see what feelings develop. By doing so you may be surprised at how good a match you find.
Voici la version Française:
La personne idéale…

« Célibataire recherche partenaire pour partager amour de la musique, promenades, voyages et lecture au coin du feu. » Je sais que ce genre de personne existe, mais la réalité ressemble probablement plus à : « Je regarde la télé dès mon retour à la maison, jusqu'à ce que je m'endorme sur le sofa… à part le moment où je fais cuire des hamburgers sur le barbecue en buvant de la bière. Pour ce qui est de la lecture, les magazines de sport, est-ce que ça compte? ».

Si vous pouviez créer sur mesure le ou la partenaire idéal(e), quelles qualités figureraient sur votre liste? Des caractéristiques physiques, comme la taille, la couleur des yeux et des cheveux, et des traits psychologiques, comme l'honnêteté, le sens de l'humour, l'intelligence et la fiabilité s'y trouveraient.

Mais ce qu'il y a de plus intéressant, c'est qu'en général, lorsque nous tombons amoureux, notre partenaire ne correspond en rien à notre liste. Le beau grand brun cède sa place à un petit rondouillard chauve, au nez crochu. En comparant les qualités des personnes qu'on aime à celles qu'on avait idéalisées, on se rend compte qu'on est devenu amoureux de quelqu'un de tout à fait différent. Et c'est très bien ainsi. Cela prouve à quel point il est difficile de définir l'amour, ou même nos propres goûts.

Elle m'aime, elle ne m'aime pas
L'amour comporte souvent un fort attrait physique et croît à mesure que nous découvrons le caractère de l'autre. Ce sentiment transcende n'importe quelle liste. C'est la même chose lorsque nous ne sommes plus amoureux. Quand l'autre nous en demande les raisons, nous peinons à lui répondre. Nous mentionnons parfois quelques habitudes qui nous irritent, mais elles semblent si futiles. Il est donc tout aussi difficile d'expliquer pourquoi nous aimons ou pourquoi nous n'aimons pas quelqu'un.

Il serait vain de déterminer le genre de personne qu'on veut rencontrer et de partir à sa recherche. Les amitiés ne naissent pas ainsi. Elles se nouent simplement à la suite de contacts sociaux.

Il en va de même pour l'amour. Il vaut mieux oublier votre liste. Apprenez plutôt à connaître des gens et vous verrez les sentiments qui en résulteront. Vous pourriez être étonnés de voir à quel point la personne que vous avez rencontrée est le «match» parfait !
Tagged as personals ads, Relationships.
Posted in Relationships, Uncategorized.
Posted on
22 Oct 2012