January and February have been stressful, in that many families and children we see in our services have experienced more crises and seemed in our short staffed reality, to be doing collectively worse.  Is it the weather, the post holiday tensions, difficult work environments that create increased stress on already fragile systems? It is hard to tell except that we the medical front line workers are feeling the impact.
Vicarious traumatisation also called compassion fatigue, is a condition experienced by caregivers and health practitioners who day after day make themselves emotionally and mentally available to people in need, and support men, women and children who are experiencing complex, ongoing problems or facing tragedy. Too much overwhelms the coping system that needs an outlet to let go of these accumulated tensions. (… there is that word again!)  And yes I've been feeling the weight of the work I do in my growing inability to leave my preoccupations at the hospital.
So what is the right remedy to be able to turn the switch off in order to regenerate my batteries when I'm out of the therapy room? Ordinarily I would say making art, and yes it works beautifully. However there are times when the energy level is not there and I need to 'take in' more than 'put out' (as in art making). Liette Desjardins, nurse here at the Douglas introduced the subject of laughter on her blog just a few days ago. I also came across an older post by Cathy Malchiodi's on the subject. Cathy is a well known art therapist, she also writes about the benefits of laughing . In fact I was talking to my art therapy intern, who with the music therapist were exchanging suggestions about funny movies. I do believe that funny movies are a potent dose of happy that is good for the brain and body.  Laughter is good for your health in a number of ways. Laughing counteracts the effects of stress hormones.
Laughter relaxes the whole body.
Laughter boosts the immune system.
Laughter triggers the release of endorphins
Laughter protects the heart.
It also provides a number of mental health benefits.
Laughter dissolves distressing emotions. You can't feel anxious, angry, or sad when you're laughing.
Laughter helps you relax and recharge. It reduces stress and increases energy, enabling you to stay focused and accomplish more.
Humor shifts perspective, allowing you to see situations in a more realistic, less threatening light. A humorous perspective creates psychological distance, which can help you avoid feeling overwhelmed.
And if you share it with others it seems the benefits are multiplied:
Be more spontaneous. Humor gets you out of your head and away from your troubles.
Let go of defensiveness. Laughter helps you forget judgments, criticisms, and doubts.
Release inhibitions. Your fear of holding back and holding on are set aside.
Express your true feelings. Deeply felt emotions are allowed to rise to the surface.
(information provided by the HelpGuide.org)
And what if nothing is funny? it seems that faking it works as well. Laughter yoga is explained by John Cleese on this YouTube video. John Cleese reports on laughter yoga
La thérapie par le rire is explained here at Passport santé . Which leads me to talking about  therapeutic applications of laughter in various care settings.
Le rire médecin sur doctissimo.fr a video;  shows how clown are used with sick children in hospitals.  In France clown therapy is part of the creative arts therapies, not so in Canada. Patch Adams, an MD who understood the benefits of laughter is well know this side of the Atlantic. He created the Gesundheit! Institute to teach his holistic approach to medicine. Dr. Clown with a similar approach is now implanted in Montreal, Quebec city and Toronto. So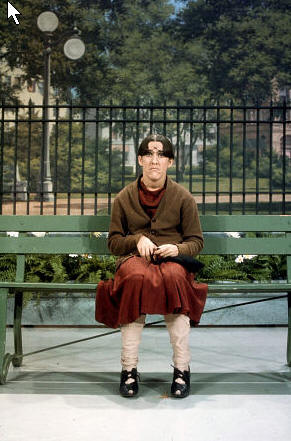 me drama therapists have also specialized in clown work.
Whatever makes you laugh get a healthy dose of it in your life on a regular basis.  I think I will watch a few reruns of one of my favorite comedy shows from the 60′s and 70′s (can't hide my age there) and that was Rowan and Martin's laugh-in with Ruth Buzzi, Goldie Hawn,  and a host of very funny comedians. And next I'll pick a movie from the following list of funny and feel good movies including foreign titles. While I knit my umpteen pair of socks,  that should do it for the week-end. Enjoy.
Classé dans benefits of laughing, clown therapy, funny movies, laugh-in, laughter, stress, thérapie par le rire, vicarious trauma.
Catégorisé dans Société, Thérapie, santé mentale.
Publié le
05 fév 2011