One of my childhood heroes was George Leigh Mallory. I remember reading about his attempts to scale Mount Everest. What made the story so fascinating was the mystery surrounding his death. He and fellow climber, Sandy Irvine, were last seen going for the top but were never seen again. No one knows for sure if they ever made it to the summit. Unbelievably, George Mallory's body was found a few years ago, as you can see in the photo below.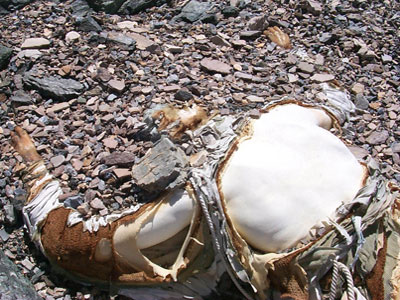 Mallory's famous quote about why he wanted to climb Mount Everest (Because it's there) is often misattributed to Edmund Hillary, who along with Sherpa guide Tenzing Norgay, is recognized as the first to climb Mount Everest, or at least the first to climb it and survive.
This got me thinking about why we do certain things. Necessity may be the mother of invention, but sometimes invention is the mother of necessity. Humans do things simply because they can. The instinct for survival and dominance makes us do some pretty odd things.
In searching the internet for interesting records to use in my column, I came across this picture of a woman setting the world record for fastest 100 meter hurdles while wearing swim fins (The record has since been broken. Go Figure). It is among the funniest things I have ever seen. The serious look of determination on the runner's face, juxtaposed with the ridiculousness of what she is doing, is priceless.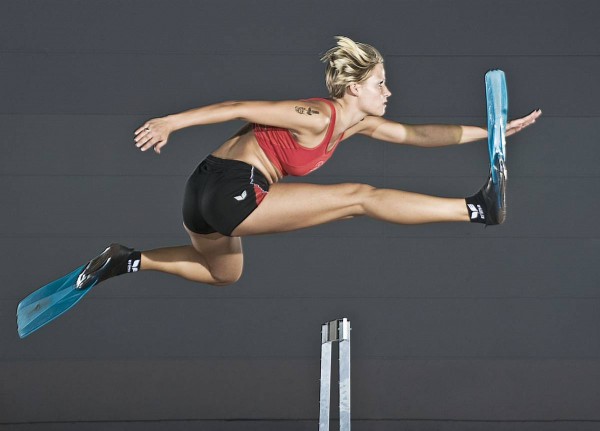 Perhaps this isn't such a useless skill. I probably shouldn't make assumptions. You never know if this ability could be of use some day. What if a bunch of scuba divers came upon a school of man-eating blowfish that, in a freak of spontaneous evolution, sprouted legs and chased the divers onto shore. Most of the divers would probably bend down to remove their flippers so they can run faster. Perhaps one smart young woman, realizing that the time lost in removing them would give the fish ample time to catch up, decides she need not outrun the blowfish, only her fellow divers. She decides to leap over them as they struggle to remove their flippers.
Well, anyway, the concept of why we do things that do not provide any direct benefit, inspired last week's column.
Because I can

(Source: Parce que je le peux. Journal Métro, May 17, 2011)

When asked why he was trying to climb Mt. Everest, the legendary George Leigh-Mallory said, "Because it's there."

This statement tell us a lot about human nature. When faced with obstacles, something in us makes us want to overcome them. This is probably a reflection of the human brain's evolution towards ingenuity as a way of manipulating the environment and mastering the world. If we can climb the highest mountain in the world, or fly to the moon for that matter, we can do anything. Nothing is really gained from the summit of Everest or a pile of moon rocks other than the knowledge that these challenges were surmountable.

What then do we make of people who are willing to pay $2000 for a Louis Vuitton purse or $10000 for a Rolex watch? Will the Rolex keep more accurate time than a $50 watch and, if so, will those milliseconds help me get to my appointments on time? Is the Louis Vuitton going to hold more stuff than a $25 purse from Walmart? Something beyond need is obviously motivating these purchases.

The answer must be a simple one: people buy exclusive items 'Because they can.' We all like to achieve something difficult, not because it fulfills a survival need but because it fulfills the need to conquer. How else would we explain the thousands of crazy records in the Guinness book? Someone actually holds the world record for tiddlywinks with a jump of over 30 feet! Oh, to have such strong thumbs. I could rule the world…or at least hitch hike for hours.

To own a mountain or to own a watch

There is something both inspiring and disheartening in human nature's desire to conquer the world. On the inspirational side are incredible achievements borne of human ingenuity – air travel, organ transplants, great works of art and music. On the disheartening side are the monuments to human greed and self-promotion – attempts at world domination, slavery, and anything named Trump.

Some achievements represent triumph over adversity. This need to fight and conquer is what assures human survival. But taken too far, the need to conquer also reveals itself to have an evil twin. Unfortunately we are unlikely to have one without the other.
Tagged as competitiveness, George Leigh Mallory, Guiness book of world records, Mount Everest.
Posted in Human nature, Random thoughts.
Posted on
30 May 2011